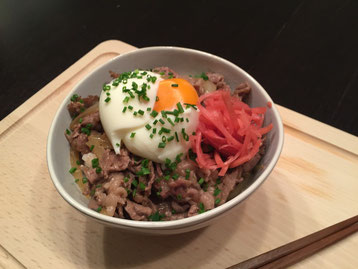 Sometimes you just want to stay home and enjoy a home cooked meal among friends. So we decided to try our hands at a quick and easy Gyuudon recipe. 
Gyuudon is a bowl of rice topped with onions and thin slices of beef cooked in a broth consisting of dashi stock, miring, soy sauce, ginger and sugar, the whole thing topped off with a raw or an onsen egg (soft boiled egg). 
This dish can be savoured all over Japan in the multitude of fash food chains. As a hearty, readily available and cheap dish it is very popular among young people and Japanese "Salary Men". The most popular Gyuudon chains in Japan are Sukiya and Yoshinoya. The first Yashinoya restaurant having been opened by Eikichi Matsuda in 1899 in Tokyo's Nihonbashi district. 
This dish is quite easy to make and is hearty enough to satisfy all your guests. We decided to share our take on this traditional dish inspired by different recipes online with you. Enjoy!
---
Recipe: Home Made Gyuudon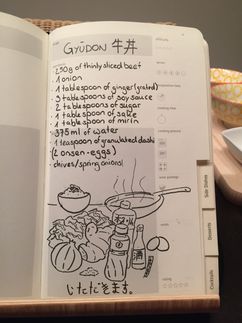 You will need (serves 2):
- 250g of thinly sliced beef (prefer a cut that has a little more fat)
- 1 onion
- 1 table spoon of freshly grated ginger
- 3 table spoons of soy sauce
- 2 table spoons of sugar
- 1 table spoon of sake
- 1 table spoon of mirin
- 1 teaspoon of granulated dashi stock (mixed with 375ml of water)
- chives or spring onions
-  red pickled ginger
- 2 eggs (optional)
---
---
Instructions:
To make the onsen eggs
Put the 2 eggs in a saucepan.

Bring water to a boil and pour over the eggs until they are covered in water.

Put the lid on the pan and let the eggs cook for 20min. 
Take the eggs out and drop into a bowl with ice water. 
Once the eggs are cool break into a small bowl. The egg white should be more fluffy than the yolk. 
To make the Gyuudon
Thinly slice the onions.

In a pan, mix the dashi stock, soy sauce, sugar, mirin and sake and bring to a boil.  

Once the stock is simmering add the onions and the grated ginger. 

Once the onions are soft, add the meat. 

When the meat is

almost

 

totally

 cooked, remove from the heat. 

Serve the meat and 

onions

 on a bowl of rice. Add the chives / spring onions, the red pickled ginger and the 

onsen egg.
Enjoy !
Feel free to play around with the recipe! We'd love to hear your feedback. In the mean time: いただきます。
---