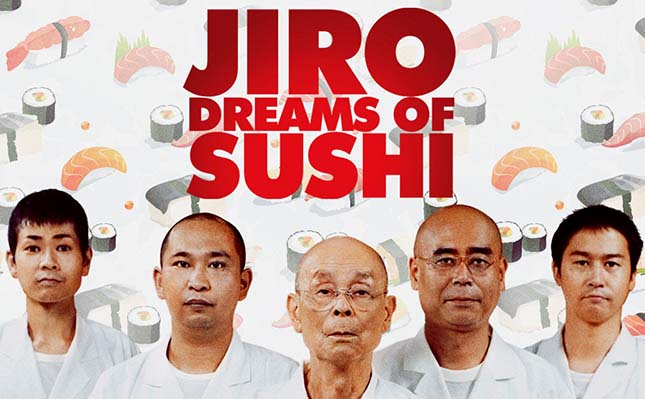 When the weather turns from summer sunshine to gray and cold for the week-end, you might get the urge to stay home, order in and see what's on Netflix. We know the feeling all to well and have put together the best program for your evening ! Lately, there have been some amazing movies and documentaries made around Japanese cuisine and their hidden masters who devote their lives to their art. 
Here are our 3 top picks:
---
N.1: Jiro Dreams of Sushi (2011)
This masterpiece of a documentary follows the life of 85-year-old sushi master Jiro Ono, his renowned Tokyo restaurant, and his relationship with his son and eventual heir, Yoshikazu.
We love it because it shows the essence of Japanese artisans and how a lifetime of dedication can make cuisine a work of art.
Time: 1h 21 min 
Where can you find it: Netflix, iTunes, Amazon
 What to have with it: We suggest you order some fresh sushi from Samurai, as a fitting accompaniment for the movie.
---
N.2: The Birth of Sake (2015)
This movie chronicles a season at the small family-owned Yoshida Brewery, in the Ishikawa Prefecture, which has been making sake for more than 140 years. A part from breathtaking scenes, the story shows the dedication of a dozen employees to create the premium sake brand, Tedorigawa.
We love it because it not only shows the craft that goes into sake making but also an endangered way of life.
Time: 1h 30 min
Where can you find it: Netflix, iTunes
What to have with it: Shizuku has a great selection of sake, which would make the movie experience even more enthralling. Our favorite at the moment is the Ootegara - Junmai Daiginjô. Kanpai !
---
N.3: The Mind of a Chef (Episode 10)
Dive into the culinary diversity of Japan's cuisine with Chef David Chang. As he travels from Tokyo to Kyoto to meet with the people who have perfected their signature style, you will get an unfiltered glimpse into the multiplicity of Japanese restaurants and specialities.
For those more accustomed to the more subtle documentary style, this is more of an American straight talking (sometimes cursing) type of show.
Time: 22 min.
Where can you find it: Netflix, Amazon
What to have with it: If you want to try your hand at making some Japanese food yourself, we suggest our easy Gyudon recipe!   
---
Special shout out
Finally a special shout out for: AN (Sweet Bean) (2015). It is the sweet story of a pancake maker who meets an elderly lady. She has been making incredible sweet bean paste for over 50 years. We will just let the trailer speak for itself. We can't wait for it to be available for download.
Which is your favourite Japanese movie?