A trip to Winterthur can quickly feel like a world away from the known city: especially for those who decide to enjoy the 15 minute walk from the Winterthur station to the restaurant Bunter Hund and find themselves crossing various residential areas. 
From the 26th to the 30th of April 2017, the Bunter Hund in partnership with Shizuku and its sake specialities, proposed a culinary journey. We answered the invitation and think: this should be done more often.
The small but very cosy venue, the personal welcome by the chef Alexander Binding and the sake-importeur Marc Nydegger charm us from the moment we enter the restaurant. The aperitif, a glass of "De Ai", a hoppy sparkling wine, is refreshing and suits the carrot sashimi with creamy matcha butter superbly.
The first course consists of smoked salmon with Granny Smith beads, celery cream served with ginger, and is accompanies by a light Junmai Ginjo from the far away province of Tottori. The note of marzipan suits the dish very well and we are still reminiscent of the light and airy celery cream.
Subsequently, our still lingering hunger is satisfied with a delightful sake-cauliflower-risotto. A second Junmai Ginjo, this time from Kyoto, with a slight buttery note, rounds off the dish deliciously. We must admit, we were quite surprised and delighted by the unexpected sweetness of the cauliflower pieces. 
As our main course, we were served a breast of duck in soja sauce, with leek and tonka beans. This culinary creation was accompanies by the most expensive sake of the evening: a Junmai Daiginjo from the Hyogo prefecture. Despite its strong 16,8% percent by volume, the sake did not overtake the sweet and mild taste of the duck, but complemented it. (Bottle, see image below)
After a short break, it was time for the deserts. The unusual creation combining chocolate and "Blauem Hirni" or "blue brain" (cheese from raw cow milk coated with blue mould and Himalaya salt) was a real treat, as well as the accompaniment: a boldest  sake of the evening, a Junmai Genshu with 17.8 percent per volume - a great desert wine from Hyogo. 
Then followed the actual desert - a light mango cream with raspberries, elderberry and pepper. The Junmai Nigori with yuzu which was served in accompaniment is the discovery of the evening and will be part of our oncoming summer apéros. Slightly bitter but with a light sweetness from the citrus, this drink (7%) is best qualified for a toast.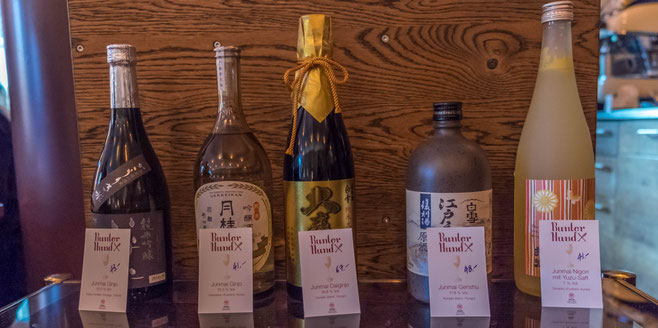 The varied menu as well as the genuine and personal care made our visit to the "Bunter Hund - with a drop of Japan" to a memorable experience. We hope that more of these interesting culinary partnerships will come about! 
All the wines presented here can of course be found in the Shizuku online shop, which we would like to heartily recommend - and as always, we' would be happy to be greeted by friends and acquaintances for dinner with a glass of sake :)